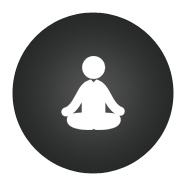 Bengal Tiger Hot Yoga in Colchester, CT, teaches Bikram Beginners Series Hot Yoga. All classes are beginners level classes and follow the same sequence of 26 postures and 2 breathing exercises.
The first thing to do to prepare yourself for your first class is…
RELAX…You'll practice at your own pace.
Second…Make sure you're hydrated before coming in and bring water with you for class…
Third…Get some food…protein a little bit of carbs in your stomach 2 hours before class. Everybody's different and you'll figure out your routine.
Fourth…Bring a yoga mat and a towel big enough to cover your mat for class. If you don't have a mat and towel rentals are available for both.
Fifth…ENJOY…Everybody always remembers their first class.
Let our Certified Instructors guide you through your first class today.
If you have questions or concerns regarding our yoga class or our studio, please fill out our online form. We will get back to you promptly.
NAMASTE!